InfoRad Nighthawk NH100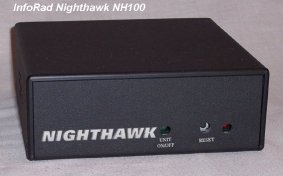 InfoRad, Inc. is proud to introduce the Nighthawk NH100, a paging based wireless power control unit. The InfoRad Nighthawk NH100 allows a user to remotely control power to any device that can be plugged into a 15-amp outlet. Simply page the unit just as you would an ordinary pager.
Features
Completely wireless. No phone line required
Control of one standard 15-amp outlet
Compact and attractive design
Easy view indicator lights
Manual push-button control of outlet power
Available in all paging frequencies: VHF, UHF, and 900MHz
Specifications
Enclosure: High density plastic
Color: Black
Size: 5"x5"x2"
Power Cord: 14 Gauge, 3 prong IEC type
Switching Capability: 15 amps, 120 VAC
Paging Format: POCSAG 512, 1200 or 2400 baud
Buy




Now

Request More Information
Call InfoRad Sales @ 800-228-8998 for more information and pricing on the NH100.